Want to play? Get in touch!
Already registered from a previous season? You will need to click the appropriate link at the top of this page in order to "Register" your daughter to participate in the program of interest.  Reminder - for the spring/summer season, your daughter MUST register and attend the tryouts in order to be assigned to a team.
Email
Jack Feagin - Club Director
jfeagin2@gmail.com
Benita Brown - Club Administrator
bn141@bellsouth.net


Phone
404-966-8469
Our Club Provides:
Spring/Summer Teams - Local and Travel

Equipment & Facilities Provided

Referees, Umpires & Administrators

Post-Game Activities
Connect with us:

Click here to see our Former GA Pistols Players who went on to become College Players.
Welcome to the Georgia Pistols (North Atlanta Girls Basketball Club)
The Georgia Pistols (North Atlanta Girls' Basketball Club) is dedicated to the administration of a highly competitive and instructional "after season" basketball program for girls ages 8 to 17. GA PISTOLS provides an organized and disciplined environment for players to develop and to maximize individual and team basketball skills, sportsmanship and teamwork.

GA PISTOLS assembles competitive girls' basketball teams in each age level for competition in local, state and national programs and tournaments, sponsored by national basketball organizations.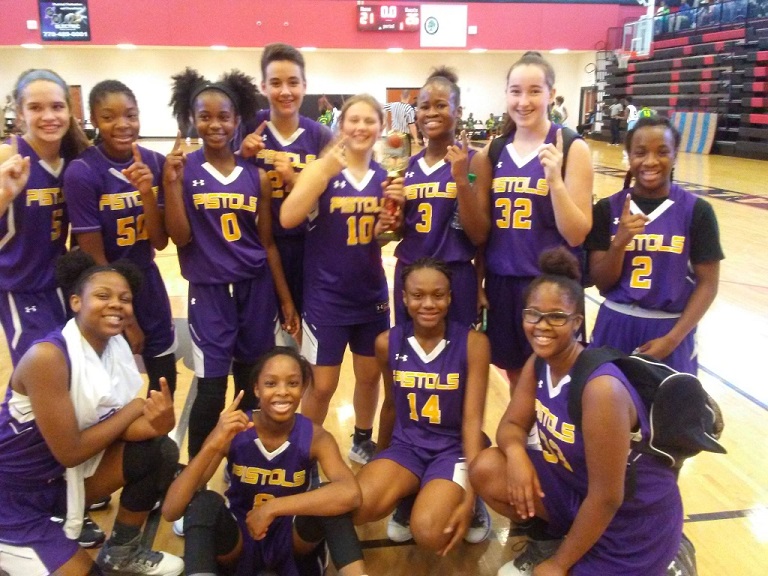 ---
Georgia Pistols ~ Spring/Summer 2018 Season

Our Spring/Summer Season is for girls in Grades 3rd through HS Juniors.

**Tryout Registration now open**

ALL players - *returning* and new MUST register by clicking the tryout link above. 
Tryouts will be held on February 25, 2018 for 9th through 11th Graders at Holy Innocents Episcopal School - 805 Mount Vernon Hwy, Atlanta, GA 30327.

Our East GA Pistols teams will also have their tryouts on February 25th for 9th through 11th Graders.  These teams will tryout and play out of Tucker High School.


Even if your daughter has been pre-selected to play on a team, please register her as if she would be attending a tryout.


Although tryouts are FREE, your daughter will need an AAU Membership ID card ($16) prior to tryouts. The cost of our program is $550; and our Elite teams' player's fees are $700.  Payment plans are available - a two payment plan and a three payment plan.  Space is limited and sold out last year.
You may click on the  Tryout Registration (2018) link at the top of this page for details about dates and times of the tryouts.

If you do not have a GA Pistols' LeagueApps account, you will first need to create a Parent Account and then register your daughter.

If you have a GA Pistols' LeagueApps account, please login first to your LeagueApps account and then add ("Register") your daughter for the Spring/Summer Season.

You will need an AAU Membership in order to register - all info regarding obtaining an AAU Membership can be found in the Tryout Registration link.